Session 1 [34:13]: How to build effective workflows. We'll be exploring how firms should be thinking about, creating and utilizing workflows for getting systems in place to better serve your clients, but most importantly, so everyone in your firm will actually use them on a daily basis.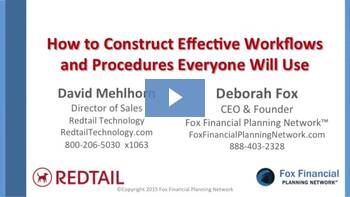 Session 2 [34:25]: Deborah Fox, CEO and Founder of Fox Financial Planning Network will introduce you to the Tailwag workflow engine components by providing a demo of how to build effective workflows into the engine so they not only work, but will also get adopted by your team. She'll also provide you with many tips and tricks about how you can avoid many of the mistakes she and her team initially made. At the end of the session, you'll also get a sneak peak of the FFPN Tailwag Workflow System Templates that are programmed into the Tailwag workflow engine that are available for purchase so you don't need to start from scratch.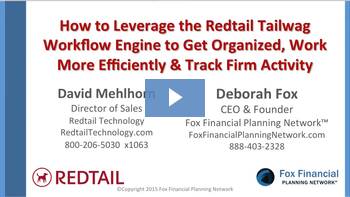 Does something in the video look different than your screen? Redtail's Development team is continually releasing updates to the Tailwag CRM. See this post for the most up to date descriptions of new features and recent issue fixes. For recorded videos that overview CRM system updates, click here.